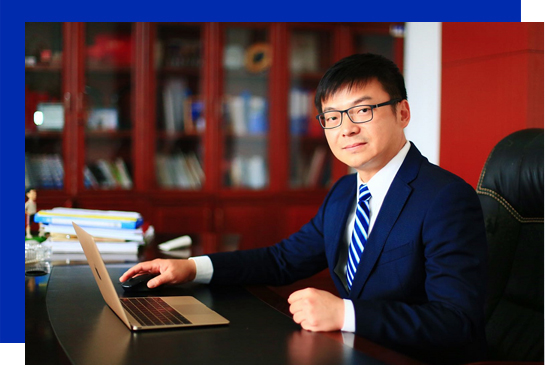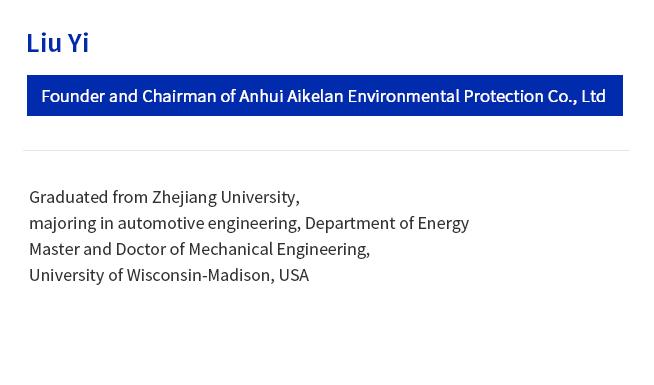 He has won the China Youth May Fourth Medal, the China Youth Entrepreneurship Award, the China Yangtze River Delta Youth Business Forum Annual Youth Business Leader, China has been awarded the Contribution Award for Overseas Chinese (Innovative Talents), and honored as a national model worker and outstanding contributor to the cause of socialism with Chinese characteristics. And so on, enjoys the special allowance of the State Council. He is now a member of the 13th National Committee of the Chinese People's Political Consultative Conference and a member of the Committee of Population, Resources and Environment Committee, National Federation of Industry and Commerce Executive Committee, and vice Chairman of the Anhui Federation of Industry and Commerce.He is also a Distinguished Professor and doctoral advisor of Hefei University of Technology, and an Adjunct Professor of Beijing Institute of Technology and Jiangsu University. Liu Yi with his own "China dream" devoted to the environmental protection industry,
so that our people can enjoy the convenience of the power era, but also enjoy the beautiful blue sky and white clouds.

Dear friends:
hello!
In 2008, a group of Ph.D. students, who have been studying abroad and have made great achievements in their studies, returned to the motherland with their dreams of environmental protection and industrial service, and started the road of entrepreneurship full of hardships but also full of pride. Act blue, act for more blue, which means "active action, create blue sky"; the Chinese translation is "Ai Ke Lan", which means "Ai, the sky can be bluer"!
Through the persistent efforts of all aikelan people, aikelan has grown from a toddler to a young and energetic person. The company and team have been commended and awarded by the state, ministries and cities for many times; they have undertaken a number of major national scientific research projects such as the national "Atmosphere Special Project", "Rare Earth Special Project", "863" and "Support Plan"; they have led and participated in the drafting and formulation of national, industrial and local standards. ActBlue has become an advanced technology enterprise recognized by the industry, an industry leader and an environmental protection star enterprise created by governments at all levels! Really, aikelan thumb up for themselves!
But it's just the beginning. Innovation has no end, entrepreneurship has no end! Innovative ideas and entrepreneurial passion are always the soul of aikelan's development. A business, like a person, also has character and morality.Unremitting self-improvement, , respect for heaven and love, aikelan should be self-discipline and self-motivated! The value of our existence lies in bringing good economic and social benefits and pleasant experience to our partners. Mutually promote interaction and common progress. We sincerely request you to supervise us, help us, rain and shine, and work together to build a green power industry!
To be able to participate in the magnificent environmental protection industry is not only the opportunity given to our generation by the times, but also the mission given to our generation by the times. Our persistence stems from our belief - this is a very meaningful cause! No matter how many frustrations ahead, we will definitely forge ahead and sing all the way!
With AI, the sky can be bluer!