Chairman Liu Yi Attends Anhui High Level Talent Representative Symposium
Date:2023-02-17 Views:133
On the morning of February 14th, a symposium on high-level talent representatives from Anhui Province was held in Hefei, focusing on the theme of "adhering to the principle of true love, nurturing talents with care, attracting talents with dedication, and meticulously utilizing talents, cultivating top-notch innovative talents, and opening up new fields and tracks for development". Provincial Party Secretary Zheng Zhajie attended and delivered a speech, while Deputy Party Secretary and Governor Wang Qingxian presided over the meeting. ActBlue Chairman Liu Yi was invited to attend and give a speech.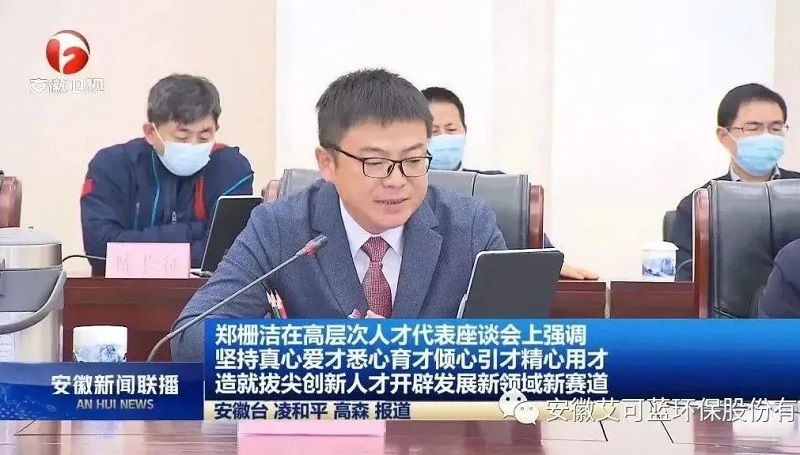 At the symposium, academicians of the Chinese Academy of Sciences and Chinese Academy of Sciences, representatives of national important platform talents, introduced talents, and representatives of talents from key fields such as universities, key industries, culture and health, and agricultural skills attended the meeting. Liu Yi, Chairman of ActBlue, delivered a speech as one of the speaking representatives. Is there any difficulty in talent introduction? What is the clinical application status of research and development achievements? What is the current status of key core technology research? During the speech, Zheng Zhajie interacted and communicated with representatives from time to time, and responded to the suggestions and opinions put forward one by one.
Dr. Liu Yi reviewed the process of leading a North American doctoral team back to China in 2009 to start a business and launch an impact on the field of engine exhaust control, which was still technically weak and the industry was just starting. After fifteen years of hard work and with the care and support of Party committees and governments at all levels, as talent policies continue to be implemented and technological innovation continues to climb year by year, ActBlue has completed a leap from National 3, National 4 to National 5, and now to the National 6 standard.
At last year's 20th National Congress, "Promoting green development and promoting harmonious coexistence between humans and nature" was once again included in the report, accelerating the green transformation of development methods and deepening the prevention and control of environmental pollution. With the further clarification of policy guidelines, how to make good use of market opportunities and accelerate the promotion of high-quality development has also become a problem that ActBlue is considering.
In Dr. Liu Yi's speech, the keywords "breakthrough", "leading", and "diversified development" are worth noting. Dr. Liu Yi introduced that in recent years, ActBlue has adopted a strategy of synergy between endogenous growth and extensional development, combining technological innovation and talent cultivation, breaking through foreign "bottleneck" technology monopolies. In turn, it has acquired the global commercial vehicle rear processing business of the Fortune 500 Continental Group, taking the first step in global layout and becoming a leading enterprise in the industry, And became the first listed company in China to focus on exhaust gas treatment, promoting the development and emission upgrading of China's green power industry.
Dr. Liu Yi emphasized the experience of Secretary Zheng Zhajie visiting ActBlue for inspection and guidance in the second month after taking office in Anhui. Secretary Zheng conducted on-site consultations and encouraged ActBlue to diversify its development, actively exploring new technologies and directions in different energy scenarios, and promoting cooperation between ActBlue and leading domestic car companies and tail gas treatment in existing markets, including demonstration applications for ships. Now, in addition to focusing on the main business of vehicle engine exhaust treatment, our product applications have expanded to fields such as shipbuilding and industry, and we are also exploring the field of new energy power.
At the end of his speech, Dr. Liu Yi proposed suggestions and opinions on industrial clusters, environmental investment, and diversified energy development. Our province is a major and strong province in the automotive industry, with a leading advantage in the transformation and upgrading of the automotive power industry. We continue to promote the prevention and control of pollution in the existing market, coupled with breakthroughs in new technologies and the implementation of new projects, making the industry development more promising.